Paving, Manufacturing, & Delivery
High quality asphalt mix designs and expert paving services make RK Hall the best resource for asphalt projects in Northeast and West Texas. Our many locations allow us to produce, sell, and deliver 1.5 million tons of high quality asphalt per year throughout north Texas, the Panhandle, southern Oklahoma, Permian Basin, and southwest Arkansas. All our hot-mix locations have earned a Diamond Achievement Commendation from the National Asphalt Pavement Association.
Our TXDOT Certified Technicians design, test, and monitor throughout every step of the process to ensure all asphalt paving mixes are always the best quality for your job. Our dedicated paving experts have the knowledge and experience to deliver quality service and ensure all your asphalt paving projects are laid with the highest standards.
Manufacturing, & Delivery
Our Ready Mix operations in west Texa, east Texas, and southern Oklahoma offer a variety of mixes and the technical expertise to create the right mix for your needs. No matter the season, our hot and cold water capabilities will keep your job on schedule and delivered when you need it by our sizable fleets. Each year, we are proud to produce and deliver over 500,000 tons of ready mix concrete.
Commonly used for flatwork, footers, and foundations.
Commonly used for slabs on grade and walls
Commonly used for projects where high strength is critical
We offer specialty mixes such as colored concrete, large stone slab
mixes, grout mix, flowable fill mix, and many others.
We offer a wide variety of aggregates as the foundation for your project's success.
Each year, RK Hall safely and efficiently produces over 4 million tons of aggregates.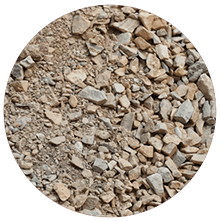 Flex-Base
Classified by TxDOT Item #247. These products are used for stabilization beneath asphalt and concrete paving for parking lots and highways. Flex-base can also be treated with cement.
Rip-Rap
Classified by TxDOT as 12" (up to 200 lbs), 18" (up to 530 lbs) and 24" (up to 1,000 lbs), these large rocks are used along shorelines of rivers and lakes to help control erosion as well as drainage structures and sediment control channels/ditches. RIPRAP is also used in landscaping.
Fine Aggregate / Manufactured Sand
Consists of C-33, Man-Sand, and Dry Screening and Washed Screenings. Used primarily for the production of concrete.
Course Aggregate
Consists of Ty B, Ty C, Ty D, #57, #67, Grade 5 Modified, Grade 3 and Grade 4 Cover- Stone. These products are typically used in asphalt and concrete mixes, overlaying existing roads and can be used for driveway and septic systems.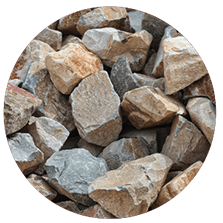 Other Material
Ballast, 3 X 5 Rock Filter Dam, 4 X 8 Gabion and Surge Rock. Used for logging and farm roads as well as construction entrances where heavy truck traffic is needed in wetter-than-normal conditions.
At RK Hall, our vetted drivers are committed to delivering your products safely and on-time.
We have over 200 delivery units available to deliver your aggregate and asphalt products precisely when you need them. Each unit is equipped with the latest SAMSARA technology to aid our drivers and monitor our quality and efficiency in each load. Safety and quality are our top priorities as our drivers spend over 1 million miles per month on the road while maintaining safety records that are well above the national average.